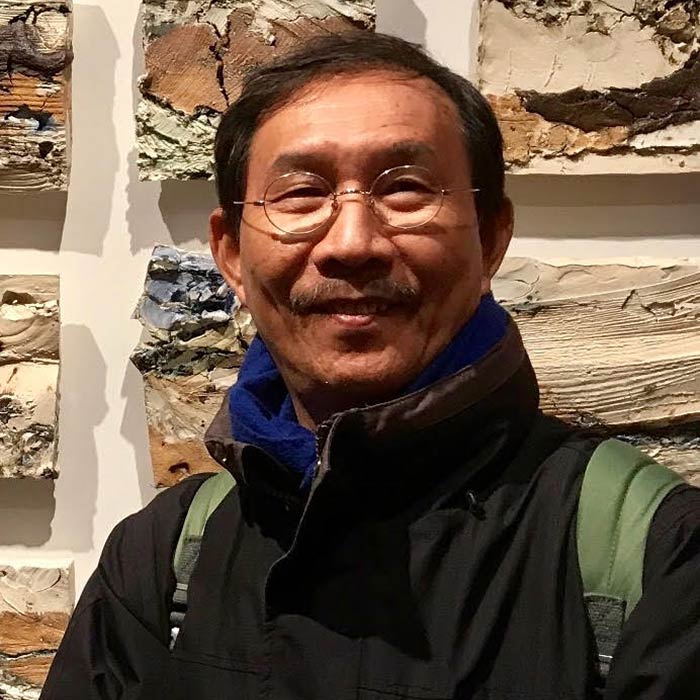 Born in 1955 in Malacca, Peter Liew studied art at the Malaysian Institute of Art (MIA) and was awarded Best Student in 1978. He worked in various jobs in graphic design and painting after graduation. Peter fell back into painting during his time in Pulau Ketam and Malacca. It culminated in his first solo exhibition at the Artist House Gallery albeit without success.
Peter calls the years between 1977 to 1981 his "dark period" and this hardship was reflected in his art with it's dark somber colours. He had started teaching at the MIA but was unhappy there. Together with his wife Christina, they ran Montage Art Centre from1984 to 1996.
He works with various mediums like watercolours and ink but his love has always been oil on canvas. His oils are done with uncanny speed, his bold strokes "are made with one breath without breaking". His signature styles with its thick dollops of colours are put on the canvas swiftly with his dexterous control of the palette knife to reveal an intriguing mix at the edges that is at once, like a fragment of chiseled masonry, a sculpture. The artist said that his strokes, full of energy, power and force are his character, his signature and identity.
His works are collected by the National Art Gallery, Bank Negara, Maybank as well as Tan Sri Francis Yeoh and many others.