About Us
Translated from French, La Galerie du Monde means 'The Gallery of the World'. One might imagine that the global import of this name stands in stark
contrast to the entirely local content of our opening show which begs the question which Juliet posed in William Shakespeare's play Romeo and Juliet,
"what's in a name ?"
There are, in fact, a number of reasons why we chose this name for our new Gallery. Whilst it is our intention to showcase art from other countries in the future, we are also committed to introducing the wonders of Malaysian art to the world at large. The incredible talent of our artists has already been acknowledged on international platforms with the works of several local artists such as Yusof Ghani, Jalaini Abu Hassan and Latiff Mohidin, having been featured in auctions by established houses such as Christie's and Sotheby's. Recently, after intense bidding, Latiff Mohidin's Growth I from his coveted Pago-Pago Series, sold in London for a record price of £245,000 (over MYR1.3 million) including premium.
The auction came roughly a year after the preeminent Malaysian modernist painter was honoured with the Centre Pompidou's first exhibition about Southeast Asian art held at its In-Focus Gallery in Paris. Nevertheless, there remains ample scope to highlight the work of other exceptional Malaysian artists to the art community beyond our own backyard.
The other motivation behind our name, is to establish a brand that will be able to stand up to the highest scrutiny not only locally but also internationally; a gallery that stands shoulder to shoulder with the best private galleries in the world. In this our first exhibition, we are privileged to be supported by artists of the highest calibre, whose reputations have been forged on the back of years of endeavour, artistic excellence and, often, perseverance in the face of adversity. We present Jolly Koh's bewitching mastery of colours, the seductive abstract energy of Awang Damit, the delicacy of Eng Tay's paintings which are replete with mood and many others.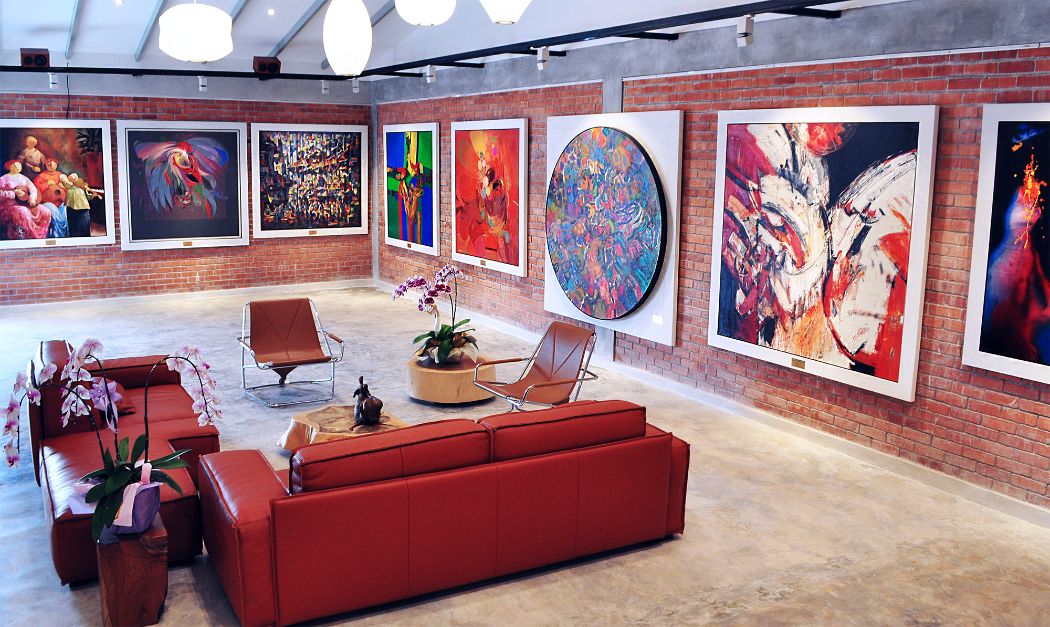 We are also especially proud to introduce works by four talented artists with autism as part of our ongoing commitment to support 'special talent artists'. All proceeds from the sale of these works will be given to the artists themselves. Our opening show features art on paper, canvas and linen, works of oil, acrylic, charcoal and mixed media, an eclectic and fascinating range of works which, we hope, will appeal to different tastes and encourage old and new collectors alike.
We also look forward to uncovering younger talents and to present them with the opportunity to establish themselves as stars of the future. To us, achievement is measured as much by the unearthing of raw gems as it is by the polishing of old ones and we intend to scour the nation in search of the next generation of outstanding Malaysian artists.
At the core of our philosophy, however, is a desire to establish longstanding relationships with and between our artists and collectors to the point where
the lines between business and friendship coincide. It is an incontrovertible truth that beyond every painting or purchase is a person and it is by forging
connections between the people who create, sell and buy art that we will find value in our endeavours. As the novelist CS Lewis once said
"Friendship is unnecessary,
like philosophy, like art……
It has no survival value; rather
it is one of those things that give
value to survival."