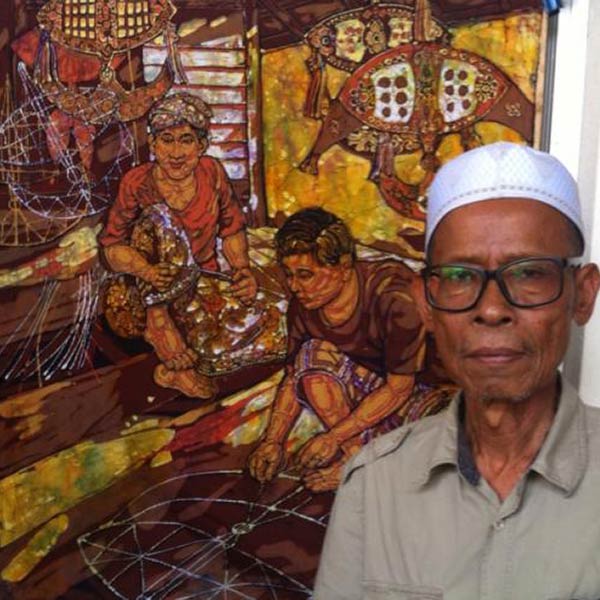 Born in 1938, in Pantai Sabak, Kota Bharu, Kelantan. Ismail Mat Hussin's art depicts everyday rural scenes from the East Coast of Peninsular Malaysia. He developed an interest in painting at 12 and took up weekly art painting classes at Padang Garong Malay School under the tutelage of Cikgu Nik Mahmood between 1954 and 1955. His creativity was further enhanced through music. He took up the violin in 1962 and obtained a Grade V certificate in the instrument from The Royal School of Music London. Being able to play a musical instrument allowed him to sustain his creative interest in painting.
Three years later, in 1968, he took the plunge and took up painting full-time. At that time, experimentation with batik painting among artists in Malaysia was gaining momentum. Ismail's mentor was Khalil Ibrahim. Ismail became very good at batik painting, having patience in spades and an innate talent for combining warm tones and earthy hues from a restricted palette of colours to depict everyday rural scenes with lively good humour.
Ismail's batik paintings may be found in the art collections of the National Art Gallery Kuala Lumpur, Petronas, Bank Negara Malaysia, ESSO Malaysia and Maybank among others, including a clutch full of notable individuals. They include N.A. Rahman, Tan Sri Abdullah Ayob, Muhammad Haji Saleh and Tan Sri Eric Chia.