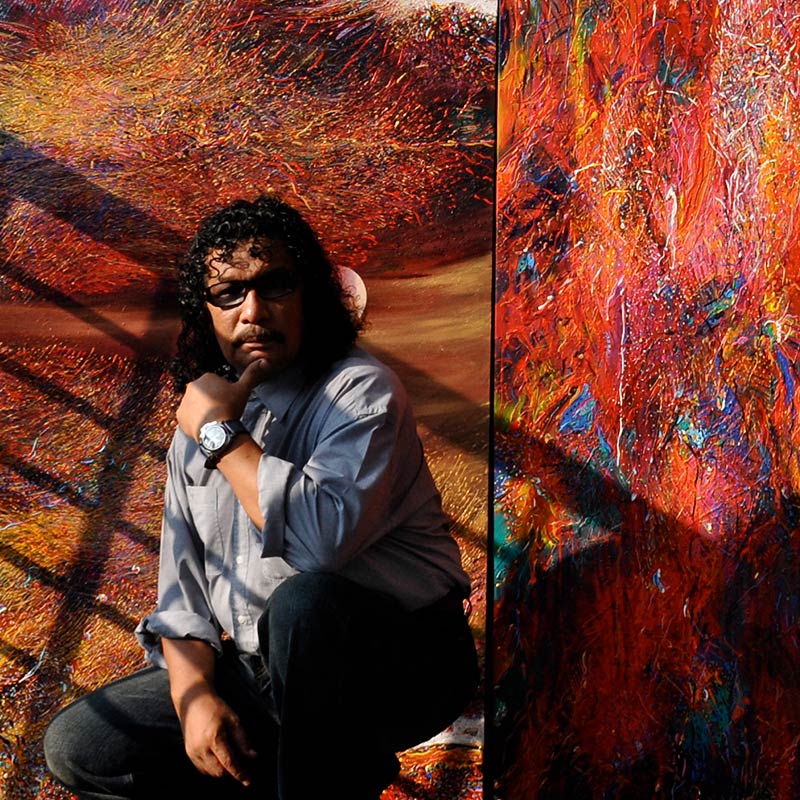 Born 1955 in Melaka, Malaysia, Ismail Latiff graduated with a Diploma in Art & Design from MARA institute of Technology (UITM) in 1979. He won the Frank Sullivan Prize in the graphic art section of the Salon Malaysia art competition held by the National Art Gallery Malaysia. As an artist, he was nominated Young Illustrator of Asia in Japan in 1981 and won first prize at the Biennale of Visual Arts, Seychelles in 1992.
Having started his career in advertising before switching to fine arts, his philosophy of life and work is "Art is Life and one of the best introductions to art is Nature". The subjects of Earth, Light, Wind and Water based landscapes have always been his trademark. The smooth, flowy movement and the light reflected off them is clearly something to behold. Ismail Latiff translates the formation of waves and it's ensuing collisions into an "art dance".
He captures the depth, the clarity of water and light in wonderful colors. He was involved with a lot of exhibitions and shows. The year 1989 was a prolific year for Ismail with his taking part in three separate exhibitions, the first being at The First Asean Travelling Exhibition in Paintings, Photography & Children's Art, that took place in numerous cities; Jakarta, Kuala Lumpur, Bangkok, Manila and his hometown, Singapore, to name a few.
His second stint of the year was at the 3rd International Asian European Art Biennial Exhibition that took place at the State Museum of Fine Arts, Ankara, Turkey. Again the same year, he exhibited at the Osaka Triennial '90 International Competition of Painting at My Dome Osaka, Japan. His mystical and abstract with drip-painting techniques artworks have not only earned him reputation, but recognition locally and internationally. This album only shows some of the pieces we have by him.