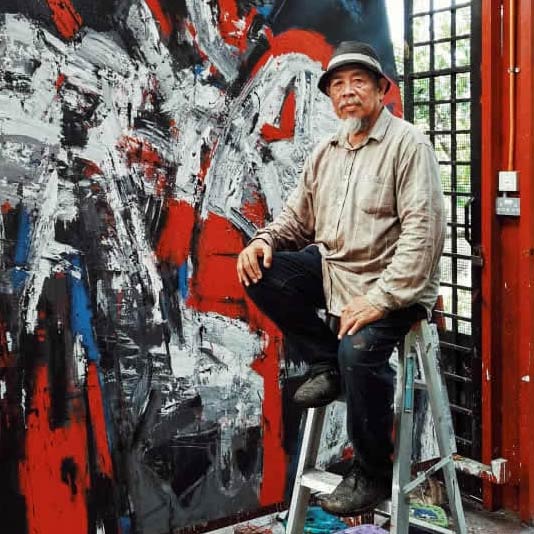 Awang Damit Ahmad is one of Malaysia's preeminent abstract expressionist. His style carries strong characteristics of indigenous art forms of East Malaysia.
He graduated from the Mara Institute of Technology in 1983 and went on to the Catholic University in Washington D.C. for his MFA from 1989-1990. In 1989 he won the second prize in the Malaysian Bank Association Art Competition followed by the the prestigious Salon Malaysia Major Award for his work, 'Nyanyian Petani Gunung' in 1991.
He was the curator of the Art Gallery and Head of Fine Arts Department before being appointed the position of Associate Professor of University Technology Mara (UiTM) in 2000.
Awang's most recognized works include EOC, Marista, Iraga and Payarama Series. His compositions range from landscapes and nature to cultural and social matters. His experiments with symbolic elements in fragmented shapes and patterns are accomplished with carefully orchestrated shades and tone of colours to create works with strong and bold strokes.